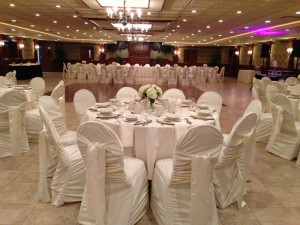 The beautifully appointed grand ballroom at 707 East is the highlight of our newly designed 4,000 square foot banquet center. Reminiscent of an elegant country club, our warm and inviting décor boasts cherry stained woodwork, luxurious upholstered walls, granite bars and porcelain tile floors. Whether your next event is a wedding reception or business seminar, 707 East promises to provide the perfect backdrop for any occasion.
Whether your next event is an intimate gathering of 75 or a larger reception of 200 guests, 707 East is the perfect venue for your next event. We specialize in wedding receptions, anniversary and birthday celebrations, business seminars, fashion shows, sporting event gatherings and holiday parties – to name a few!
The grand ballroom features a beautiful stage area, dance floor and a state-of-the-art audio/visual system. We also provide complimentary amenities such as satellite radio/TV and Wi-Fi capability.